All your lab tests in one place
Easily import your lab tests in the Biolytics App and access valuable insight for each biomarker.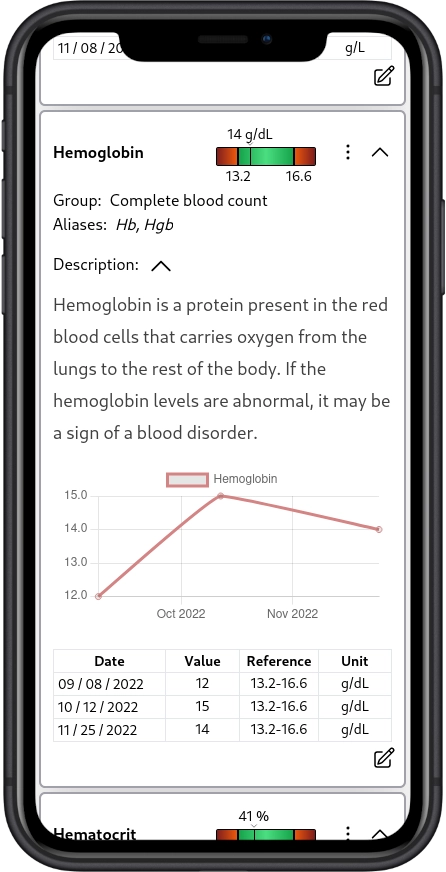 For health entusiasts
Regular blood tests are a good way to monitor your health and to diagnose certain issues. However, lab reports quickly accumulate and it becomes difficult to have a good overview of all the biomarkers.
Your laboratory data, either in paper or in digital format, can be imported in the Biolytics App. The biomarkers inside the Biolytics App are displayed together with a graph and description fields that allow you to effortlessly track their evolution and understand their meaning.

For laboratories
A significant addition of value for your customers, is the digitalization of the lab report upon reception. The customers can scan a QR code present on your lab reports to import the biomarkers in the Biolytics App, where they are combined with a description and graphical data visualization items.
Data ownership
Your health data is securely stored in the App and is never sent to an external server.
User empowerment
Easily understand your blood tests with the description provided by the Biolytics App.
Import from picture
The Biolytics App uses AI technology to automatically recognize biomarkers from your paper lab report.

(comming soon)
Import from QR
Laboratories can provide a QR code that contains the report in digital format. Scanning the QR code will automatically import the report into the Biolytics App.
The Biolytics App has reached the third stable version.
Biolytics currently provides a platform to import, store and visualize the biomarkers data.
Many new features are planned and will be integrated in future version of the Biolytics App.
Would like to partner with us?
Send an Email to:
In collaboration with biondi.ch